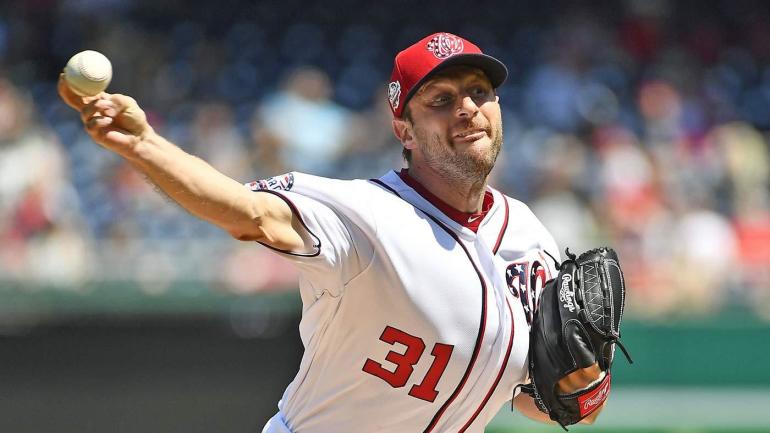 It's getaway day, meaning nearly a full slate of baseball goodness. There's 15 games on the schedule, including the resolution of Tuesday's Yankees-Nationals game and nine others of the day variety. Keep it here for the latest news, notes, and scores.
Wednesday's scores
Scherzer clashes with Yankees
If you like power-versus-power matchups, then boy is there a good one for you coming on Wednesday night. Max Scherzer, the reigning NL Cy Young Award winner two years running, will take on the Yankees.
Scherzer looks like he could well be headed for a threepeat. In his first nine starts, he's put together a 1.69 ERA and 7.00 strikeout-to-walk ratio while averaging more than six innings per pop. It's only nine starts, but he's improved on each of his four main peripherals — that's hits, home runs, walks, and strikeouts per nine — when compared to last season. Sheesh.
Scherzer will test his stuff against a Yankees lineup that has been the best in the majors at scoring runs and the third-best at hitting home runs — not to mention one that features names like Aaron Judge and Giancarlo Stanton.
And oh, by the way, Scherzer's opposite will be CC Sabathia, who has thus far continued to turn back the clock. Sabathia has a 2.23 ERA And 5.60 strikeout-to-walk ratio in seven starts.
Can Buehler stop Dodgers' slide?
Walker Buehler, the lanky Dodgers right-hander, will make his fifth career big-league start on Wednesday. He'll face off against the Marlins in a game that has surprising meaning for Los Angeles — that's because it'll determine whether the Dodgers will have lost six in a row.
It's almost unfathomable to think the Dodgers are this close to losing a series to the Marlins, and yet here they stand. Buehler, for his money, is a solid bet to end the streak. He's managed a 1.64 ERA in his first four starts, striking out nearly four batters for every walk issued and keeping the ball in the park (his next home run allowed will be his first). He has good stuff and an athletic body, so it's all about command and consistency.
Win or lose, the Dodgers will find themselves well under .500 and at least 7.5 games back in the division. It's still early, but you can pardon L.A. fans who feel it's getting late quickly.
Giants look to maintain winning streak versus Harvey
Unlike the Dodgers, the Giants have course-corrected lately, winning three in a row, including Tuesday's victory against the Reds. San Francisco will try to make it four-for-four with another game versus Cincinnati.
Andrew Suarez will take on Matt Harvey in a matchup that favors the Giants from a production standpoint, if not a name-value one.
Suarez is a 25-year-old rookie southpaw who has a 4.57 ERA and 5.75 strikeout-to-walk ratio in four starts. He doesn't have big stuff — his fastball sits in the low 90s and he complements the heat with a cutter, curveball, and changeup, none of which profiles as a true out pitch. Suarez is, basically, a generic southpaw without any bells and whistles.
Harvey, on the other paw, is all bells and whistles and little more. His first start with the Reds saw him throw four one-hit innings, with the hit being a questionable scoring decision. Still, he generated just two whiffs on 55 pitches — that despite recording his fastest pitch of the season. Harvey hasn't had much success getting swings and misses with his secondary stuff lately, and that'll need to change if he's to find success — otherwise he's just a right-hander with a low-to-mid-90s fastball and shaky command; those don't tend to last in the rotation.
NL Central madness
The National League Central has been the wildest division so far, with four clubs entering play on Wednesday separated by a game. In fact, it's possible that by the end of the night there's a four-way tie on top of the division. Here's how it could happen:
The Pirates would need to lose to the White Sox;

The Brewers would need to lose to the Diamondbacks;

The Cubs would need to beat the Braves;

The Cardinals would need to beat the Twins.
Is that likely? No — on Tuesday, for instance, the Pirates and Cubs won, while the Brewers and Cardinals lost — but it is possible, and it would be fun.
Quick hits
The Astros optioned OF Jake Marisnick to Triple-A.
Red Sox C/UTL Blake Swihart has requested a trade.
The Mariners purchased the contract of SP Christian Bergman. He will start Wednesday's game.
Live team updates
Original Article on CBSSports.com: https://www.cbssports.com/mlb/news/mlb-wednesday-scores-highlights-live-team-updates-news-scherzer-vs-yankees-harvey-vs-giants-nl-central-madness/