Colorado Winter Storm Update: Nearly 1,3000 Sunday flights canceled at DIA; Red Cross opens warming shelters opened in El Paso County – Colorado Springs Gazette
12 min read
Stay with this story for updates on Colorado weather Saturday:
The Storm: Snow began falling across the Front Range just before 10 a.m. Saturday and forecasters expect snow to stick around through Sunday. The heaviest snow is expected to hit from Boulder to southern Wyoming, with predictions ranging from a foot to more than two feet in the hardest-hit areas.
5:30 p.m.: The Red Cross activated three warming shelters — at Kilmer Elementary in Colorado Springs, St. Peter Catholic Church in Monument and Patriot Learning Center in Peyton — the Pikes Peak Regional Office of Emergency Management announced Saturday afternoon.
El Paso County remains in a winter storm warning, set to expire Sunday at midnight.
5 p.m.: The first wave of a weekend winter storm left behind 2-3 inches of snow in the greater Colorado Springs area early Saturday and canceled hundreds of flights throughout the Front Range, as residents braced for a heavy second wave expected to hit late Saturday into Sunday.
Some areas north of Colorado Springs could receive up to 3 inches an hour, said meteorologist Brad Carlberg of the National Weather Service office in Pueblo on Saturday.
Sunday morning was expected to bring heavy snowfall near the Palmer Divide, but winds were expected to turn to the north, which may reduce moisture received in the Colorado Springs area, Carlberg said.
"How much snow actually hits Colorado Springs proper on Sunday remains to be seen," he said.
3 p.m.: The center of a low pressure system that will fuel additional snow is currently over the Four Corners region and should push into Colorado late Saturday into Sunday, bringing with it increased snow. "Heavier snow will return," the National Weather Service in Boulder cautioned via tweet.
2 p.m.: Drier air is moving into the Denver metro, slightly decreasing snowfall across the area, the National Weather Service in Boulder tweeted. However, more intense snow will resume in a few hours and last into Sunday, it cautioned.
1:30 p.m.: Heavy snowfall is expected to begin accumulating at Denver International Airport this afternoon, with an inch to an inch and a half of snow per hour expected during the afternoon and evening hours, according to a Saturday afternoon update from the airport. Total snow accumulation at the airport should range between 15 and nearly 30 inches.
So far nearly 750 flights out of DIA have been canceled Saturday, with few scheduled flights remaining to depart Denver today. Airlines have already canceled more than 1,000 Sunday flights at the airport, according to airport officials.
1:15 p.m.: It's beginning to look a lot like Christmas in Denver, per Marshall Zelinger of Gazette news partner 9NEWS.
I didn't even need slow motion for the snow globe effect. #cowx pic.twitter.com/CE4cJoSwQ1

— Marshall Zelinger (@Marshall9News) March 13, 2021
1:10 p.m.: The first wave of snow in Colorado Springs left about two inches, but the second wave will be heavier, with some spots receiving up to 3 inches an hour, according to meteorologist Brad Carlberg with the National Weather Service in Pueblo, per our O'Dell Isaac.
Most flights have been canceled at the Colorado Springs Airport, spokeswoman Aidan Ryan advised. The airport advises travelers to check their flight status ahead of time.
1 p.m.: A heavier band of snow is moving across downtown Denver, causing visibility to dip to less than a mile, in addition to slushy roads. "Slow down and create extra space," the National Weather Service in Boulder tweeted.
Meanwhile, "if you don't have to drive, don't," the El Paso County Sheriff's Office is advising on Twitter. If you must hit the roads, be sure to bring along a jacket, blanket, water, matches, food, flashlight, first aid kit and extra batteries for the flashlight, the agency advises.
12:45 p.m.: While snow appears to have tapered off in Colorado Springs for the moment, I-25 between Lone Tree and Monument Hill is experiencing heavy snow, according to a tweet from the Colorado State Patrol. Troopers are working a crash on the northbound side of the interstate in the left lane, just north of Castle Pines, near mile post 190.
Buckle up and slow done, the agency advises.
12:30 p.m.: Snow forecasts are holding steady at 12-18 inches for the Denver metro and west toward the foothills, and as much as 2 or 3 feet for the Palmer Divide, said Kari Bowen, a meteorologist for the National Weather Service in Boulder, according to our David Mullen.
The Denver metro should receiver 2 to 4 inches by the evening, and another 2 to 4 inches before midnight, she said, adding that snow will likely start and stop throughout the day.
As to why rain persisted longer than predicted in the Denver metro: Forecasting involves numerous factors. "It's kind of like baking a cake," she said. "You have all these ingredients and they have to be in the cake at a certain amount, and if something is slightly off or missing, it doesn't come out the way you think. It's why we continue to update the forecast."
And wind could become a factor today too, she said, with gusts in the Denver metro up to 25 mph possible, and up to 30 mph in Castle Rock.
Noon: Last-minute shoppers were lining up at grocery stores in El Paso County as snow began to accumulate.
"It's snowing pretty hard in some areas right now," said Pamela Evenson with the National Weather Service Office in Pueblo. "We're getting reports of about an inch in northeast Colorado Springs, and in the Black Forest area."
At Denver International Airport, stranded travelers may be piling up. The airport had 744 flights cancelled Saturday and more than 1,100 cancelled for Sunday, the website flightaware.com reported.
Denver airport spokeswoman Emily Williams said she didn't have statistics on the passengers passing through the facility Saturday "but I know we've seen a pretty busy morning through security today."
"If passengers get stranded overnight, we have supplies available and our customer service team can also help direct people to hotels with availability nearby," she said. "A good way to avoid being stuck overnight is to confirm your flight status before you head out to the airport and take advantage of any option to reschedule your flight if possible."
At the Colorado Springs Airport, more than 70 flights were cancelled for Saturday and Sunday.
11:45 a.m.: The flakes are heavy in southwestern El Paso County and they've already claimed at least one tree limb, knocking out power to more than 600 Colorado Springs Utilities customers near Highway 115 west of Fort Carson. The utility said it has a crew on the way to get the lights back on.
Utility crews could be hopping this weekend and electric companies around the state have warned customers that snapping trees could cut lines. Officials have advised residents to steer clear of down lines and call the local utility for a repair.
"Downed power lines can look relatively harmless, but don't be fooled," the Peak Regional Office of Emergency Management warned. "They likely carry an electric current strong enough to cause serious injury or possibly death."
11:30 a.m.: Snowfall was becoming widespread across Douglas and Lincoln Counties, the National Weather Service reports.
Metro Denver is next.
"Rain is starting to change over to snow for much of the Metro area and foothills," the Weather Service said on Twitter. "There is continued accumulation on roads in Lincoln and parts of Douglas County. Snow will increase in coverage through the afternoon and continue through Sunday."
11:15 a.m.: A dose of freezing drizzle that came ahead of the storm could make roads treacherous around Denver.
Shortly before 9 a.m. freezing rain began in Centennial, near the Denver Tech Center. That gave way to snow at 11 a.m. and flakes were falling steadily on Denver by 11:15 a.m.
As those flakes stick, they'll come on top of a layer of ice that could turn roads into rinks.
To the south, Fountain became the first Front Range city to put its police on "accident alert" Saturday.
That means drivers there involved in fender-benders can exchange information and file an accident report after the storm has passed. Cops will still respond to serious wrecks involving injury or suspected criminal activity like drunken-driving.
10:45 a.m.: Visibility is dropping on Interstate 25 over Monument Hill, Gazette news partner KKTV reports. Driving will get more dangerous along the Front Range as snow piles up.
Snow was falling all along the Interstate 25 gape between Monument and Castle Rock, and the Colorado Department of Transportation reported on its website that traffic through that area is slowing as drivers come off the gas pedal as conditions worsen.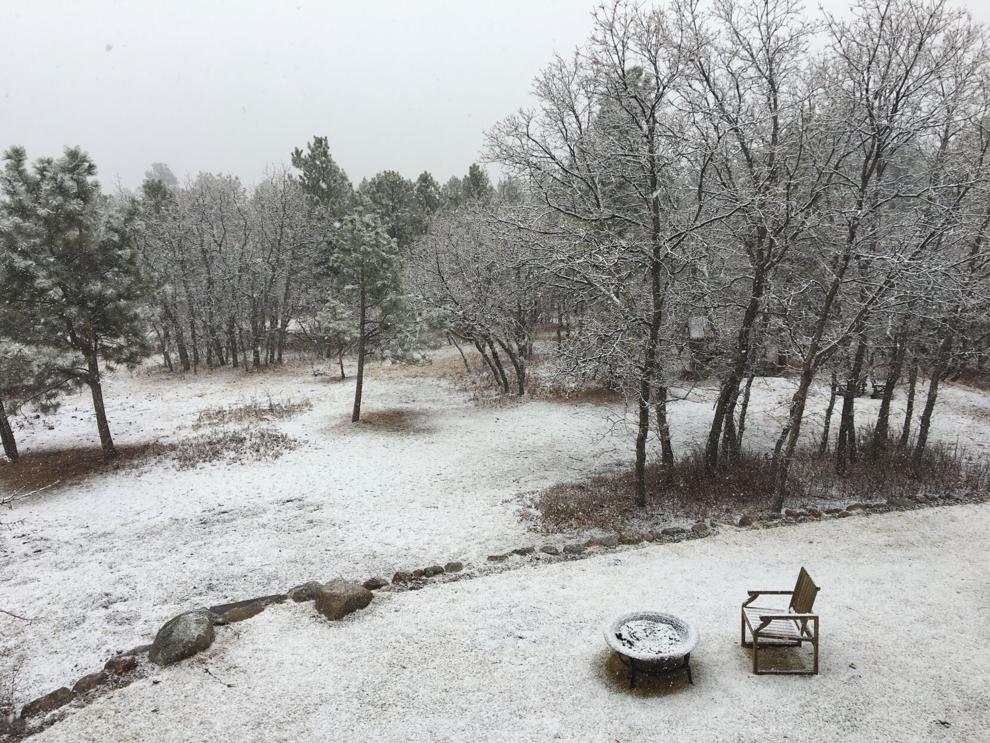 10:15 a.m.: If you live north of Colorado Springs, the storm is on its way to your house. Snow, heavy at times, is already turning lawns white in downtown Colorado Springs, and forecasters expect that moisture to hit Denver soon.
That means it's time for those Colorado lawn furniture photos. Email yours to citydesk@gazette.com and we may include it in our storm photo gallery.
10 a.m.: Light snow is beginning to fall in Colorado Springs and Denver as the storm hits the Front Range.
That snow is expected to get heavier through the day and pile up through Sunday. Radar imagery from the National Weather Service shows heavier bands of moisture taking aim at El Paso County as the storm pushes northward.
By nightfall snow will be dumping, forecasters with the National Weather Service in Boulder predict.
"Yes, the snow is still coming," forecasters in Boulder said on Twitter. "Expect widespread moderate to heavy snow by midday, continuing through the afternoon and evening."
9:45 a.m.: Things are looking up on Interstate 70 for the moment. A crash near Copper Mountain that tangled traffic has been cleared and snow has eased, allowing state officials to temporarily lift traction requirements for vehicles.
But it is March 13 in Colorado and, if recent history is a guide, things are going to get worse.
On this date in 2020, the coronavirus pandemic hit Colorado. Thousands of businesses shuttered and tens of thousands of workers found themselves in unemployment lines as a stay-at-home order was imposed.
And in 2019, this date brought one of the worst storms to hit the state. The "bomb cyclone" was a winter storm pushed by hurricane-force winds. Tens of thousands of drivers found themselves stranded as a misty morning gave way to a frigid afternoon with blizzard conditions across the Front Range.
9:15 a.m.: Some forecast models suggest the tardy winter storm could be worse than initially predicted.
"Models coming in 'hot' with snow potential late last night and this morning," Brian Bledsoe, chief meteorologist for Gazette news partner KKTV said on Twitter.
Those models show Denver with nearly two feet of snow from the weekend storm and Colorado Springs with a foot. Storm forecasts in Colorado are ever-changing, so time will tell on those totals.
Meanwhile, the National Weather Service issued some good advice for those weathering the storm: Keep your cell phone charged in case power fails in your neighborhood. And with whiteout conditions possible today, plan on staying indoors.
8:45 a.m.: Driving through Colorado is getting more difficult as the morning wears on. Interstate 25 over Raton Pass is now covered in slush and snow, the Colorado Department of Transportation warned drivers.
Interstate 70 is seeing snow, too.
Transportation officials expect snow closures on several highways today as the winter storm slams the state. Officials say their best advice for drivers today is simple: Stay home.
8:15 a.m.: Moisture is moving into the Front Range with rain clouds over La Junta signaling the approach of the expected winter storm, radar images from the National Weather Service Office in Pueblo show.
The water-laden clouds could bring thunderstorms to the eastern plains, but as the moisture crashes into a cold front over higher terrains, snow is expected to pound Denver and Colorado Springs.
Meanwhile, conditions are worsening at the Continental Divide, with a crash restricting Interstate 70 to a single lane near Copper Mountain, where snow is falling, the Colorado Department of Transportation said on Twitter.
7:45 a.m.: The battle to keep Colorado thoroughfares clear has begun, with 950 plows ready to begin work, the Colorado Department of Transportation showed on its website.
In Colorado Springs, mist dampened the morning air as snow began falling on the Continental Divide.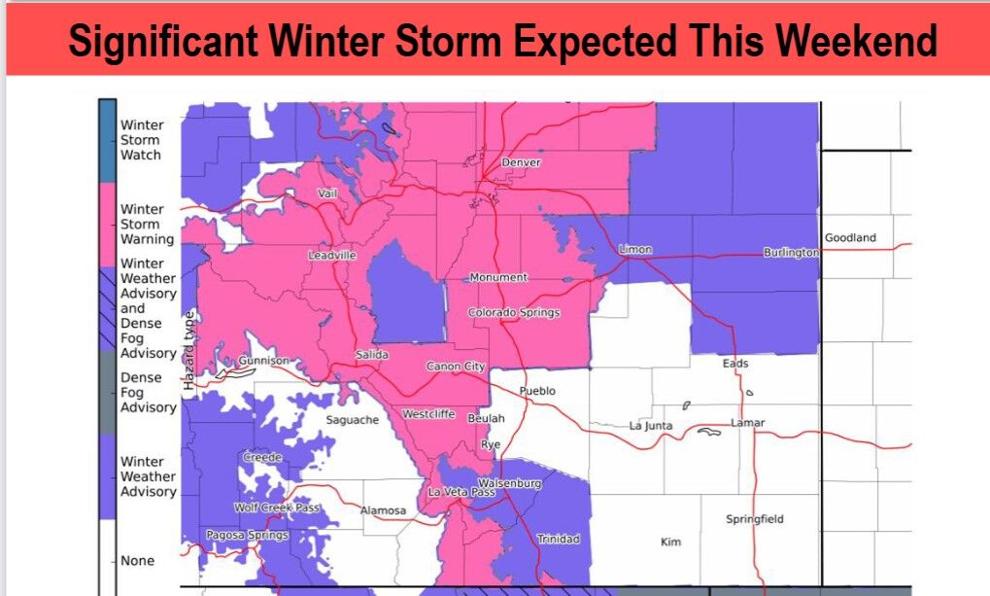 7:30 a.m.: Snow snarled Interstate 70 near Copper Mountain Saturday as a winter storm gathered strength. The Colorado Department of Transportation has imposed traction laws in the area.
Traffic cameras in the area show I-70 is slick and snow-packed through the stretch in a preview of what's expected to hit Denver and Colorado Springs later this morning.
State officials have asked drivers to keep off roads today, but if you're forced to travel, check out the Transportation Department's road condition website before you go: https://cotrip.org/
7:15 a.m.: If you want to be a hero in Denver this weekend, grab your shovel and join the city's Snow Angels.
Established in 2017, the program allows volunteers to sign up to help their neighbors dig out after storms. You can lean more here: Denver Snow Angels
7 a.m.: The first sign of the impending storm came on Interstate 70, where the Colorado Department of Transportation imposed vehicle traction laws between Georgetown and Silverthorne. The move requires drivers to use snow tires or chains to navigate the mountainous 23-mile stretch.
The state has advised drivers to park it today with as much as three feet of snow expected to pile up on the Front Range over the weekend.
6:45 a.m.: If you're planning to fly to or from Colorado this weekend, you may be out of luck thanks to the expected storm.
Gazette news partner 9News reported that more than 1,700 flights were cancelled for Denver International Airport Saturday and Sunday.
For Denver flight information, click here: https://www.flydenver.com/flights
Another 20 flights arriving or departing from the Colorado Springs Airport Saturday had been cancelled, the airport's website showed.
For Colorado Springs flight information click here: https://coloradosprings.gov/flycos/flight-status
Some events for the Pikes Peak region were cancelled early Saturday and the YMCA had shut down its facilities. You can stay up with Pikes Peak region closings here: https://gazette.com/closings/
6:30 a.m.: Road crews in Colorado Springs expected a slushy start to their work Saturday as early snow melts on warm pavement.
"Snow now looks to increase between 7-10 a.m., pushing back the prime time for accumulating snow to 10 a.m. Saturday to 4am Sunday then the 'lull' or 'dry slot' is expected," the city's Public Works Department said in an email early Saturday. "More persistent snow builds in late morning Sunday and waves of snow, varying from moderate to heavy are then expected through the afternoon and diminishing into the evening with generally dry conditions by around midnight or shortly after."
6:15 a.m.: While much of the state braced for heavy snow Saturday, southeastern Colorado's plains residents could be ducking from something different.
"While it snows in the mountains today, thunderstorms will be possible across the southeast plains," The National Weather Service said on Twitter. "One or two strong to severe thunderstorms will be possible with hail up to 1 inch in diameter and wind gusts up to 60 mph possible across the southeast corner of the state."
6 a.m.: Roads remained clear at daybreak Saturday across most of Colorado, with Interstates 70 and 25 mostly bare and wet.
But forecasters predict snow to fall across much of the state with Denver, Colorado Springs and the high country under winter storm warnings.
The National Weather Service said snow was certain in Colorado Springs Saturday, with up to four inches downtown during the day and more snow due after sunset.
In Denver, up to six inches of snow was expected during daylight hours Saturday and as much as another nine inches were due at night.
The Weather Service expected Boulder to be hammered with 18 inches or more Saturday.